Guide to a Teacher Mortgage Scheme
You voluntarily choose to provide personal details to us via this website. Personal information will be treated as confidential by us and held in accordance with GDPR May 2018 requirements. You agree that such personal information may be used to provide you with details of services and products in writing, by email or by telephone. By submitting this information you have given your agreement to receive verbal contact from us to discuss your mortgage requirements
What schemes are available?
We are often asked about the schemes available to Teachers, how many are there, what they do? So in this article we will discuss the various schemes available for Mortgages for Teachers and what their differences are.
On top of these schemes you also get specialist mortgage deals for teachers to help Teachers get on the property ladder. These often include a larger amount of borrowing being available, or even a better rate of interest. As Key Workers and professionals, Teachers have access to a wide range of specialist mortgage products for first time buyers and home movers alike.
The four schemes we will discuss here are:
Joint Borrower Sole Proprietor Scheme

Shared Ownership scheme

The Right to buy scheme

and the Government First Homes scheme (This scheme is still in the works, but is worth mentioning.)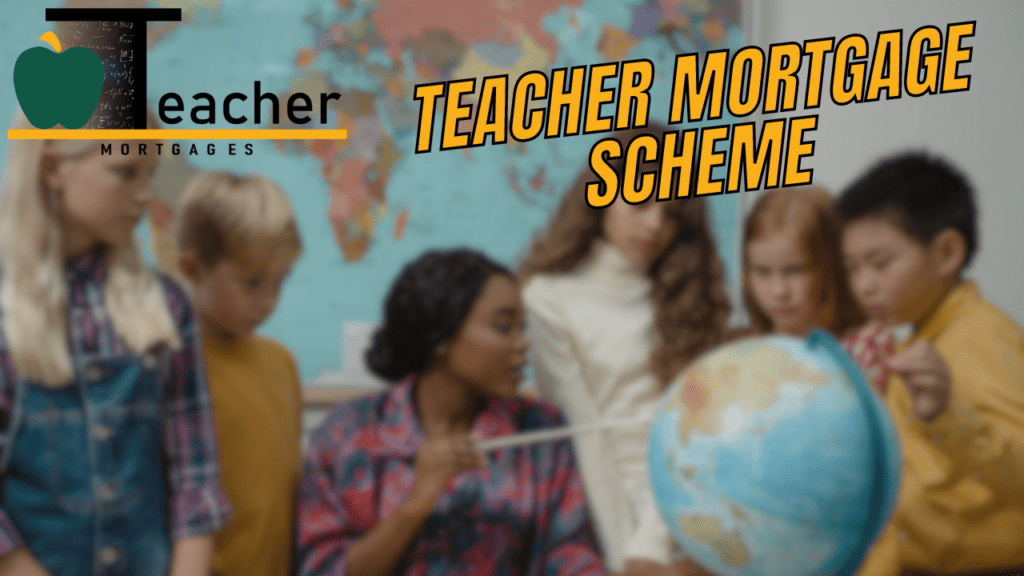 Joint Borrower Sole Proprietor Teacher Mortgage Scheme
The joint borrower sole proprietor scheme allows you to add a person to your mortgage that will not own the home. This can increase the amount you may be able to borrow without that person being an owner of the property.
This scheme is becoming more popular lately with first time buyers struggling more with the affordability that house prices currently require. This scheme is the perfect teacher mortgage scheme, as Teachers get regular increases to their salary over their careers. This therefore means that they may be able to eventually remortgage their mortgage into their sole name at some point in their career.
Government Help To Buy Scheme
The government help to buy equity loan scheme is probably the most well known of all the schemes out there. Unfortunately it is no longer available in England, however it is still available in Wales. It offers a 20% equity loan on eligible new build properties. This therefore means that you can buy a new build property with a smaller deposit.
This smaller deposit added to the equity loan in turn means that whilst using the government help to buy scheme you can get a smaller mortgage. This can often be beneficial as it may mean you can secure a better interest rate. This is because the mortgage is less of a risk to the lender as they are only lending you 75% of the value, rather than the full 95%.
The equity loan is interest free for the first 5 years, after which you can either start paying the interest, or alternatively attempt to incorporate this debt into your mortgage. Most people prefer the latter.
Shared Ownership Scheme
Shared ownership has been around for a really long time. This is a scheme which helps people onto the property ladder. They way shared ownership works is relatively simple. You part rent, part buy your home. This therefore means you may need a smaller deposit as you only need 5% of your share, rather than 5% of your property value.
Shares generally start as low as 25% and you tend to purchase the amount you can afford. As time goes by you can usually buy more shares of your home until you own the entirety of it.
This can be a fantastic way to get onto the property ladder with low income or deposit, and start building equity in your home.
Right to buy Scheme
The right to buy scheme has been around a long time as well. This scheme allows eligible Local authority tenants to buy their property at a discount to its value.
There are usually rules about what you can do with the property for a certain amount of time after buying it, such as five years.
However, this can be a fantastic way to get on to the property ladder if you are in the right position. If you are interested in this and think you may be eligible, speak to your local authority to see what your options are.
Government First Homes Scheme
The first homes scheme was announced in 2019 initially, with further information provided in 2020. However, it is still not available at the time of writing this article.
The government first homes schemes is a key worker mortgage scheme aimed at helping first time buyers and Key Workers on to the property ladder. It offers a minimum 30% discount on an eligible new build property. This discount is then passed on to future buyers of the property
The scheme has not been released yet and we have very little information on what it will be. However, if it goes ahead as planned a 30% discount on a property for Teachers would be perfect to get on the ladder as a newly qualified teacher, or in fact any Teacher.
Types of Mortgage available for a Teacher Mortgage Scheme
When we talk about the Teacher Mortgage Scheme it only describes one of the above schemes and not the type of mortgage you get to go with it. Generally the above schemes aren't compatible with Teacher mortgages such as the Professionals ranges that allow you to borrow more.
Here we break down the types of mortgage available, but you will also need to consider the duration of the mortgage. For this we recommend you speak to a specialist Teacher mortgages broker (Like us, but it doesn't need to be us!)
These are some of the mortgages available. However, there may be others and you should always consult a specialist mortgage broker to discuss your options.
Fixed Rate Mortgages
Fixed rate mortgages are probably the most common type availabe due to their regularity. They allow you to fix your rate of interest for a set amount of time. This therefore means that your monthly payments should remain the same for this period as well.
They are ideal for people that want to be able to plan their monthly outgoings, and know exactly how much their mortgage payment will be each month. This type of mortgage usually has an early repayment charge which means that they will charge you a fee to leave the mortgage during that initial period.
Discount Rate Mortgages
Discount rate mortgages offer a discount on the lenders standard variable rate. This is usually a bit lower than the lenders fixed rate offerings. Discount rate mortgages can in theory increase or decrease as the lenders standard variable rate changes.
Usually this type of mortgage will not have the early repayment charges you see with a fixed rate. This can make them a bit more flexible.
Tracker Rate Mortgages
Tracker rate mortgages work in a similar way to discount rate mortgages. However, they tend to track the Bank of England base rate and not the lenders rate.
This means they will go up or down depending on what the Bank of England base rate does. Much like discount rate mortgages they will also likely not have any early repayment charges.
Teacher Mortgage Calculator
You can find a link to our calculator at the top of our website. This will give you an approximate idea of how much you may be able to borrow.
However, we will tell you an accurate figure. For free. We will tell you early in the process how much you can borrow  as a maximum, and which lender will give you it. Even if you decide to use us we heavily discount our fees for Teachers as we do Teacher Mortgages all day, every day.
How do I find out more?
Get in touch with one of our specialist Teacher Mortgage brokers to find out more about the schemes mentioned above, specialist products for Teachers, or to find out how much you can borrow. All of this is free of charge.
Got a question about Teacher Mortgages we haven't answered? Try our main page here, still no luck? Get in touch!
Find the right Teacher mortgage today