First Time Home Buyer Teacher
Everything a First Time Home Buyer Teacher needs to know.
You voluntarily choose to provide personal details to us via this website. Personal information will be treated as confidential by us and held in accordance with GDPR May 2018 requirements. You agree that such personal information may be used to provide you with details of services and products in writing, by email or by telephone. By submitting this information you have given your agreement to receive verbal contact from us to discuss your mortgage requirements
Can I get a First Time Home buyer Teacher Mortgage?
Teachers can usually get a mortgage as a first time home buyer. There shouldn't be anything different for a Teacher than anyone else.
The only things that a Teacher may find difficult to get a first time home buyer teacher mortgage would usually be:
If they are a trainee teacher. More information here.
If they are a Supply teacher. More information here.
If they are an newly qualified teacher. More information here.
We have an article for each of these area's specifically.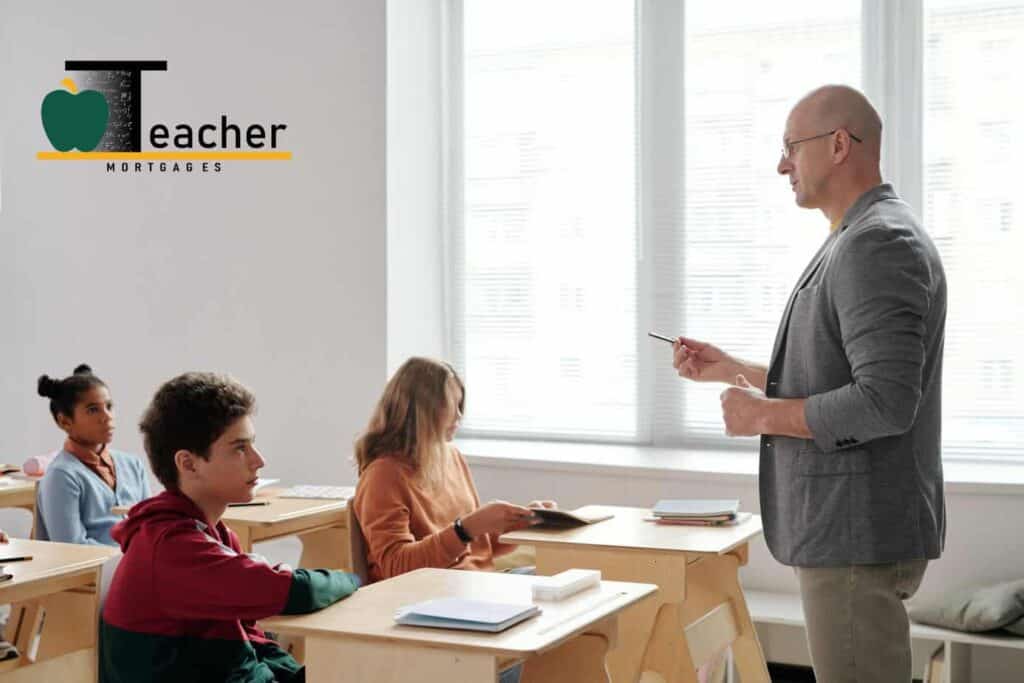 Are there special home loans for teachers?
Yes there are. You will find there are special lenders and products for Teachers, even as first time home buyers.
However, they are often not the best solution for you. Quite often the special home loans for Teachers are to do with situations like trainee teachers and NQTs where they need a specialist product.
Buying a home is a big decision, and we would always recommend speaking to a qualified specialist mortgage broker before your home purchase.
Can you get a mortgage as an NQT?
Yes you can. It is much more difficult as an NQT to get a mortgage. However, there are mortgages available for you if you are newly qualified. Sometimes even when training for your PGCE you have mortgage options for buying a house.
Can I get a teacher mortgage for a first time buyer with Bad Credit?
Yes you can. Getting on the property ladder with bad credit may be a challenge. However, it is possible. Sometimes even with a high street lender.
It will largely come down to:
How much it was for
What it was for
How long ago it was
If you think you have bad credit we would recommend getting a copy of your credit report and then consulting a specialist mortgage advisor. They should be able to give you a good idea of what you can do.
I'm a supply teacher, can I get a Teacher Mortgage for First Time Buyer?
Supply Teacher mortgages can be tough. If will probably come down to how long you have been a Teacher and how long have you been a Supply Teacher.
However, we often get Supply teachers wanting to buy their first home and have managed to help many people do just that.
I'm newly qualified and a First time buyer, can I get a Teacher Mortgage?
This is common. You are newly qualified and want to buy your first home. Lots of lenders aren't fans of Newly Qualified Teachers and don't want to risk giving you a mortgage.
But there are a few lenders that will let an NQT have a mortgage. They are often high street lenders that offer competitive rates too.
What types of Mortgage are there for a Teacher Mortgage First Time Buyer?
You generally have access to the same mortgages as everyone else, most commonly:
Fixed rate mortgages – The mortgage rate remains the same for a set period of time.
Tracker rate mortgages – The rate tracks the lenders standard variable rate or the bank of England Base rate.
Discount rate mortgages – The lender gives you a discount on their variable rate. This may also have a cap or collar to limit the movement of the interest rate.
Are there any schemes available for a Teacher Buying First Home?
Help to Buy Scheme – The help to buy scheme is a government equity loan to help first time home buyers get on the property ladder. More info here.
Shared Ownership scheme – This scheme lets you part own and part rent your property, helping first time buyers get on the property ladder.
First Homes scheme – This scheme will offer a 30% discount on the purchase of an eligible new build property.
Find the right Teacher mortgage today