House Buying Programs For Teachers
You voluntarily choose to provide personal details to us via this website. Personal information will be treated as confidential by us and held in accordance with GDPR May 2018 requirements. You agree that such personal information may be used to provide you with details of services and products in writing, by email or by telephone. By submitting this information you have given your agreement to receive verbal contact from us to discuss your mortgage requirements
What House Buying Programs For Teachers Are There?
Government Help To Buy Scheme

The Government Help to Buy scheme has been around for a while. It is probably one of the most famous house buying programs for Teachers.

It offers a 20% equity loan, allowing you to put down a 5% deposit and get a 75% mortgage on an eligible New Build Property.


More on Help To Buy For Teachers here.

Currently this scheme is only available in Wales.

Shared Ownership Scheme

The Shared Ownership scheme has been around for a really long time and allows you to part buy and part rent your home.

This scheme allows you to get a foot on the property ladder with minimal deposit or a lower income.

This scheme might be perfect for an NQT that will have steady pay increases over the years and will be able to buy more shares.

Right To Buy

This is not one of the most popular house buying programs for Teachers. Mainly as you need to be a council tenant with an eligible local authority property to be eligible.

Essentially it allows you to buy your eligible local authority property at a discount.

Government First Homes Scheme

This is probably going to be the main choice of the house buying programs for Teachers.

Whilst it has not been released yet and is currently just an announcement, it should fit perfectly for Teachers.

It will be a minimum 30% discount on an eligible New Build property. It is going to be available to First Time Buyers and Key Workers.

Joint Borrower Sole Proprietor Scheme

The Joint borrower sole proprietor scheme is becoming more popular in recent years. That is due to many first time buyers struggling with affordability early in their careers.

This scheme allows you to add an extra borrower who will not own the home. This therefore allows you to usually borrow more than you would on your own. This can be really beneficial early in your career when you know you should be getting pay increases throughout your time as a Teacher.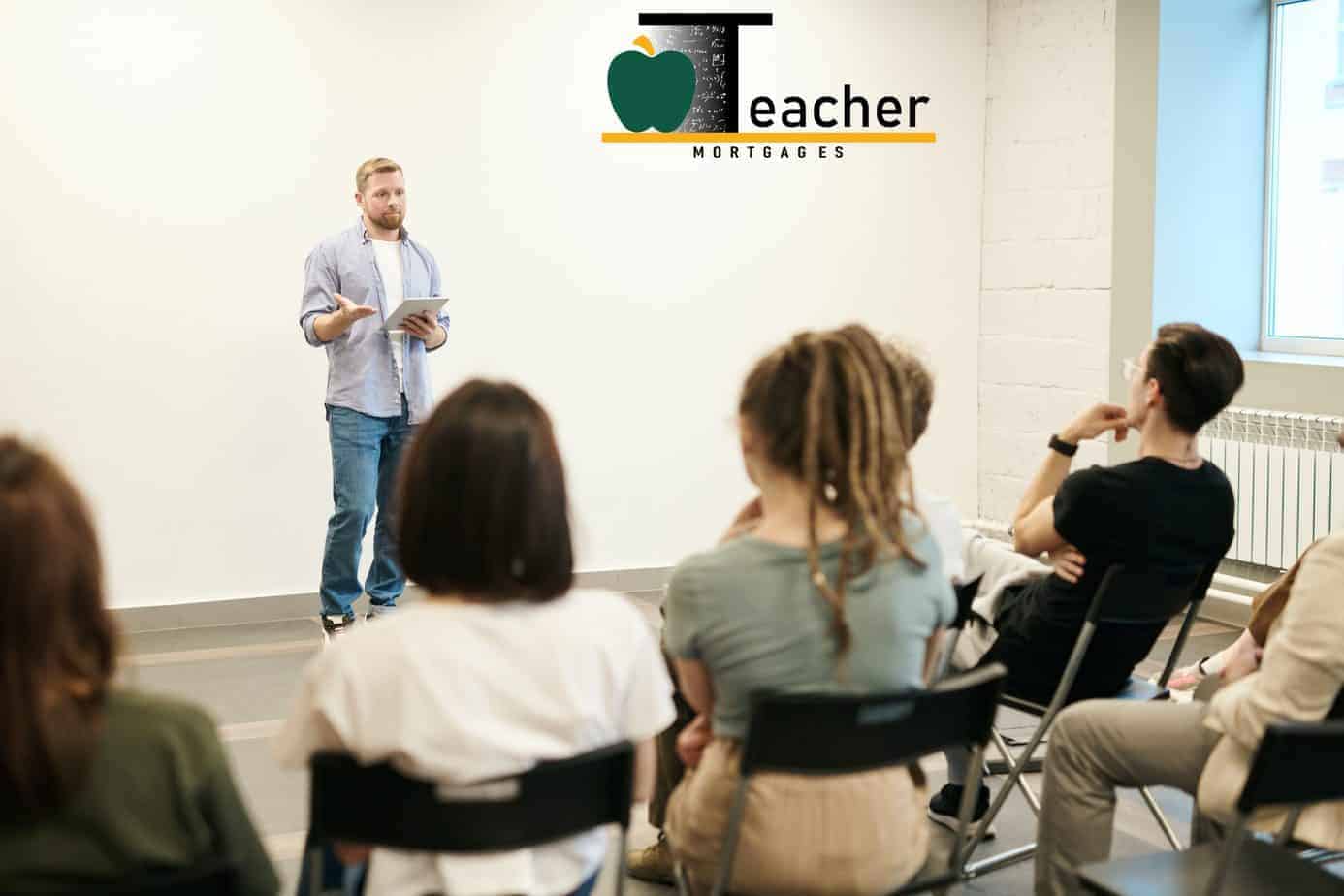 Who Can Use House Buying Programs For Teachers?
Whilst most schemes are available to everyone, if it is a Teacher specific product you are choosing you will usually need to fall into one of the following occupations:
Fully Qualified Teacher

Supply Teacher

Retired Teacher

Newly Qualified Teacher (NQT)

Trainee Teacher

Nursery Nurse

Teaching Assistant

Lecturer
If you don't fall into one of these groups still check with a specialist mortgage broker to see if your career falls into one of these. Whilst these are the main occupations eligible for a Teacher Mortgage others may fall under Teacher Mortgages that we haven't mentioned.
Which Lenders Can I Use For House Buying Programs For Teachers?
Lots of lenders have products for House Buying programs for Teachers. We won't list them all here, but if you are looking to get a home using one of the house buying programs for Teachers speak to a qualified mortgage specialist that can advise you on which lender is right for you.
Mortgage Deals For Teachers
There are several Mortgage deals for Teachers out there. Depending on your length of service and contract type. You may find that mortgage deals for Teachers in particular offer higher lending. They will often lend you more as you have regular pay rises over the years.
Mortgage Deals for Teachers may let you borrow up to five times your income. Other mortgage deals for Teachers may offer you a mortgage when other lenders wouldn't. For example if you are an NQT or Trainee Teacher most lenders won't accept you, but specialist mortgage products for Teachers will.
What Documents Will I Need For House Buying Programs For Teachers?
We generally expect the same documents will be needed for most mortgages. You may need extra documents and we have listed some of those below as well.
The documents required will definitely vary from lender to lender.
Bank Statements (Usually three months worth)

Proof of ID (Often a Passport or Driving License)

Proof of Address (Such as a utility bill)

Income (Payslips, Accounts, or Tax Calculation)

Proof of deposit (Either a mortgage statement, or bank statements showing the build up of your deposit)
Other documents you might need:
Your latest P60

Additional Bank statements
Mortgage Help For Teachers
You can get Mortgage help for Teachers from specialist mortgage brokers such as ourselves. Lenders such as Teachers Building Society, Accord Mortgages, West Bromwich Building Society, Kensington and Halifax.
You also get Mortgage help for Teachers with Conveyancing. Having a solicitor that understands your Job and when is a good time to call, and when its not can make the difference when you are trying to move house.
Teacher Key Worker Housing Scheme
Whilst the old Teacher Key Worker Housing Scheme is no longer available we have got the upcoming Government First Homes Scheme. We've detailed what we know above but this will likely be the replacement scheme.
As the First Homes scheme will be for Key Workers it will be perfect for Teachers. The First Homes Scheme will offer a really good deal for Teachers. A minimum 30% discount for Teachers will be a game changer. The only drawback is that you have to pass that discount on when you sell your home.
Got A Question About House Buying Programs For Teachers We Haven't Answered? Get In Touch!
Find the right Teacher mortgage today