Teachers Mortgage Company
As one of the UK's Leading Teachers Mortgage Company. Everything you need to know all in one place!
You voluntarily choose to provide personal details to us via this website. Personal information will be treated as confidential by us and held in accordance with GDPR May 2018 requirements. You agree that such personal information may be used to provide you with details of services and products in writing, by email or by telephone. By submitting this information you have given your agreement to receive verbal contact from us to discuss your mortgage requirements
Teachers Mortgage Company
As the UK's leading Teachers Mortgage Company we have a specialist view on how to get a mortgage deal for a Teacher. We specialise in everything from Early Career Teachers to Supply teachers. As a mortgage applicant you want to know that your application is handled by the person best suited to your needs. If you are a Teacher, this is us, hands down.
What types of Mortgages are available for Teachers?
Fixed Rate Mortgages – This is likely the most common type of Teacher Mortgage. As the rate of interest is fixed for a set amount of time, it usually means your monthly payments are also fixed. This therefore means that you can plan your monthly outgoings better.
Variable Rate Mortgages – There are various types of Variable rate mortgages, such as Standard Variable rate mortgages, discount rate mortgages, or tracker rate mortgages. They all have one thing in common, that the interest rate may fluctuate. This means your monthly payments may go up or down depending on what happens to the variable rate.
Who do you help as a Teachers Mortgage Company?
We help people from all aspects of the Education industry. This includes:
Newly Qualified Teachers
Early Career Teachers
Retired Teachers
Supply Teachers
Qualified Teachers
Teaching Assistants
etc.
Buy To Let Mortgages for Teachers
Of course, buying your own home may not be the only thing Education staff want to do. It is very common to want to invest in property as well. We have specialists in Buy to let mortgages for Teachers to help you with your investment properties.
Or perhaps you have inherited a property and want to rent it out? We also help with this type of mortgage.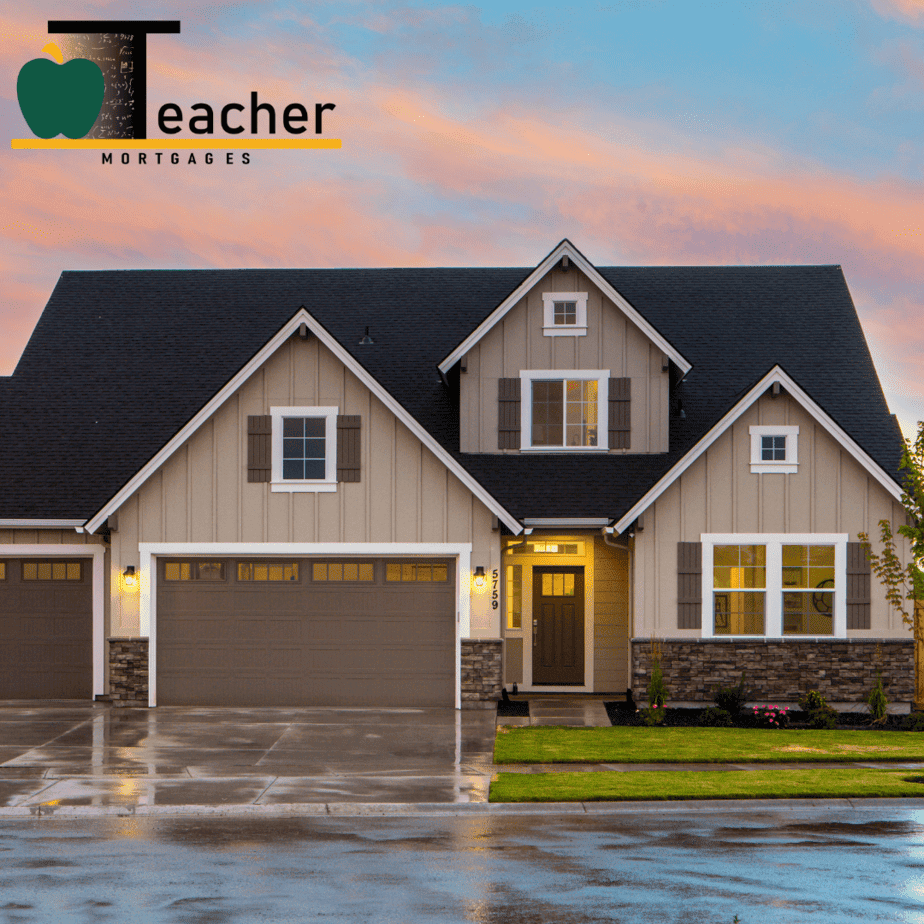 As a Teachers Mortgage Company, what do lenders look at?
Lenders tend to consider various aspects of your life when considering you for a mortgage. When you are trying to get on the property ladder, or even just want to remortgage there are a lot of things to consider. Such as:
Credit history
Income
Deposit
Any probationary period of your job
Are you on a fixed term contract?
Are there any schemes available for Teachers?
There are various schemes available for Teachers. The most common are below and we have specialist articles for them as well.
Shared Ownership – This is a common scheme to get on the property market. Offering a part rent, part buy scheme that allows you to get a mortgage with a smaller deposit or a lower income. This can be great for an Early Career Teacher that wants to get on the property ladder, and will have regular pay increases over the time. These pay increases may allow you to buy more shares of the property over time.
Government Help To Buy Scheme – The Government Help To Buy scheme offers a 20% equity loan (Or 40% in London) on eligible New Build properties. This means you can put down a 5% deposit and get a 75% mortgage, allowing you to get a potentially better rate of interest. This Equity loan is usually interest free for 5 years at which point you can either pay it off, or pay the interest.
Government First Homes Scheme – This is a relatively new scheme offering a minimum 30% discount on eligible New Build properties for First Time Buyers and Key Workers. As Teachers you generally count as Key Workers so would usually be eligible for this Scheme.
Why choose a Teachers Mortgage Company?
As a specialist Teachers Mortgage Company we deal with the same Teacher Mortgage problems every day. This means we have likely helped people like you to get mortgages for their homes.
Speed – As we offer bespoke Teachers Mortgage company we tend to be quicker to solve problems for Teachers.
Accuracy – As we deal with Teachers all day every day we tend to get the right answer first time, this means we can help people that may not have had the right advice from other advisors.
Help when you need it – As a specialist Teachers Mortgage Company we know that you are not always available 9-5. We work when you need us, often taking calls in the evenings and weekends.
Got a question about us as a Teachers Mortgage Company we haven't answered? Get in touch!
Find the right Teacher mortgage today