Mortgage Deals For Teachers
The ultimate guide to mortgage deals for Teachers.
You voluntarily choose to provide personal details to us via this website. Personal information will be treated as confidential by us and held in accordance with GDPR May 2018 requirements. You agree that such personal information may be used to provide you with details of services and products in writing, by email or by telephone. By submitting this information you have given your agreement to receive verbal contact from us to discuss your mortgage requirements
What Types of Mortgage Deals For Teachers Are There?
Fixed Rate Mortgages

Fixed rate mortgage deals for Teachers have a fixed rate of interest for a set amount of time.

This therefore means that your monthly payments will be the same each month. This is usually ideal for most people who want to know what their monthly outgoings will be.

This type of mortgage will often have a fee if you want to exit the mortgage during the initial period.

Variable Rate Mortgages

Variable rate mortgages will go up and down. This means that your monthly payments will also go up and down.

Usually these variations are linked to either the Bank of England base rate or the lenders Standard Variable rate.
Unlike Fixed rate mortgages this type of mortgage often do not have a fee to exit, meaning they can be more flexible.
Who Can Get Mortgage Deals For Teachers?
There are lots of mortgage deals for Teachers out there. It will usually depend on your situation but most of the time if you fall into one of the following you should be ok to get mortgage deals for Teachers.
Teacher

Supply Teacher

Retired Teacher

Newly Qualified Teacher

Trainee/Student Teacher

Lecturer
You may also fit for some mortgage deals for Teachers if you are:
Teaching Assistant

Nursery Nurse

A Child Therapist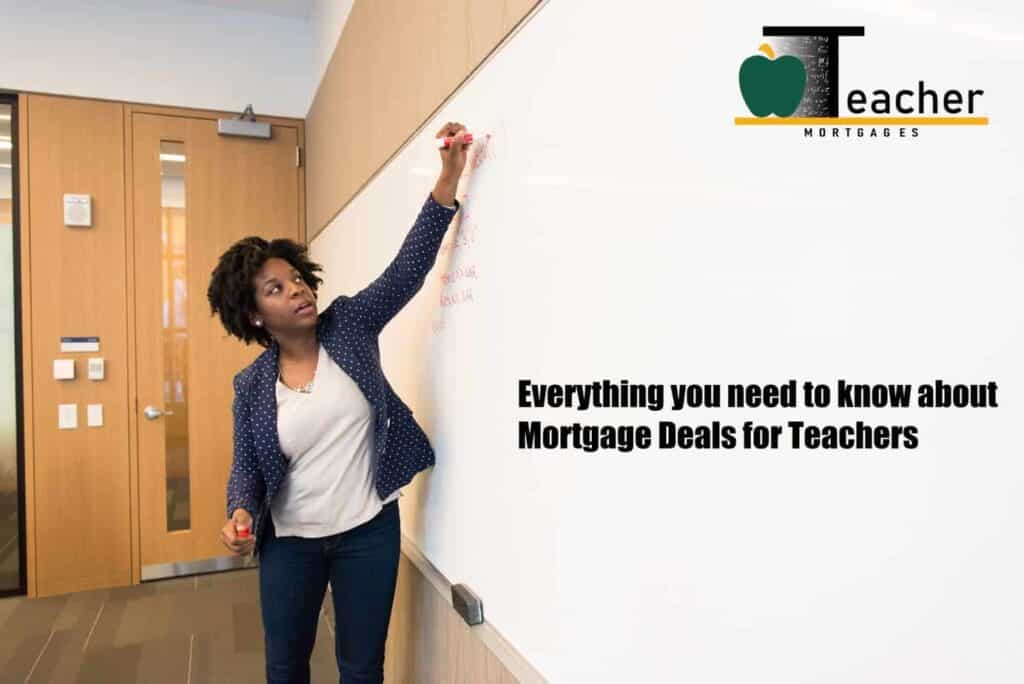 What Type Of Contract Do I Need To Have?
In the world of Teaching there are lots of different contracts at different points in your career. From whilst you are training all the way through to retirement. Generally you will need one of the following:
Permanent Contract

Fixed Term Contract (Common for Trainee Teachers, Lecturers or NQTs)

Supply Contract

Agency Contract

Part Time Contracts

In receipt of a Bursary or Stipend
Which Lenders Offer Mortgage Deals For Teachers?
Lots of lenders offer Mortgage Deals for Teachers. We list some below that we regularly work with.
Accord Mortgages

Teachers Building Society
Can You Get Mortgage Deals For Teachers With Bad Credit?
Having bad credit can often be a challenge when you are looking for a mortgage. There are mortgage deals for Teachers even with bad credit. It will usually depend on how long ago your bad credit issues were. When it comes to bad credit we usually find it will come down to a few things:
How long ago it was

How much it was

What it was for

Is it paid off
We recommend you check your credit report if you have bad credit. For this we always go to Checkmyfile as they show you your report with the three big agencies.
Are There Mortgage Deals For Supply Teachers?
Supply Teachers often struggle to get a mortgage. However, there are certainly Mortgage deals for Teachers available to you.
When working as a Supply Teacher it will usually fit into one of the following categories:
Long term Teacher new to Supply so not much history

Long term Supply (Over 12 months history)

Short term supply (3-12 months history)
There are lenders that will consider all of the above situations. It may not be easy but it can be done.
Mortgage Deals For Retired Teachers?
Retired Teachers have a few different options. It will usually depend on your age and situation.
Standard mortgage

Some lenders will lend to you on a standard mortgage if you have retired. This can be done using your Pension for affordability.

Retirement Interest Only (RIO)

Retirement interest only mortgages allow you to pay the interest on the mortgage and the sale of the property will repay the mortgage if you die or move into care.

Equity Release options

Equity release can be a great example of how people can utilise their property to release funds to help their situation financially.

Equity release should be carefully considered as it can be the perfect solution or the completely wrong solution. Always speak to a professional Equity release advisor.
How Much Can You Borrow?
This will come down to a few different things. We can usually get up to five times your income for Teachers. This will vary depending on a few things but largely:
Your commitments

Your age

How many dependants you have

Your credit history.
We considered having a calculator for mortgage deals for teachers. However, it's so complicated that any calculator we made wouldn't be very accurate. But if you can spare us ten minutes over the phone we will be able to tell you, and we'll do it for free!
What Schemes Are Available With Mortgage Deals For Teachers?
Help To Buy Scheme

You get Mortgage deals for Teachers on the help to buy scheme. The help to buy scheme offers a 20% equity loan allowing you to put down a 5% deposit and a 75% mortgage.

This means that you can usually get a lower monthly payment and a lower interest rate.

Shared Ownership Scheme

The Shared Ownership scheme lets you part buy and part rent your home which means you can get a property with a lower deposit or on a lower income.

Right To Buy

The right to buy scheme allows eligible council tenants to buy their local authority home at a discount.

If you are interested in this scheme your first point of call should be your local authority.

First Homes Scheme

This scheme has not been released yet. When it is released it will be a 30% discount on eligible New build properties. This scheme will be available to First Time Buyers and Key workers.
Got a question about Teacher Mortgages we haven't answered? Try our main page here, still no luck? Get in touch!
Find the right Teacher mortgage today